DAVE PATTY, Founder & President of Josiah Venture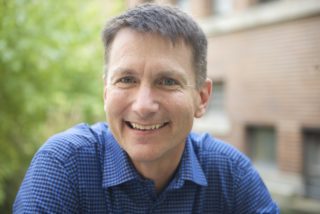 Sonlife is excited to announce Dave Patty as our main gathering speaker. Dave is based out of the Czech Republic leading the ministry of Josiah Venture (JV). Sonlife and JV share the same training DNA from the life of Christ as partners with Global Youth Initiative.
Dave and his wife, Connie, moved to the Czech Republic in November 1993 to begin the work of Josiah Venture. They have been ministering to young people and youth leaders for over 30 years, having previously served as director of Malachi Ministries in Germany. God captured their hearts for the youth of Eastern Europe on a mission trip shortly after the revolution in the summer of 1990. Dave leads the Josiah Venture team, invests in the country leaders of JV and teaches God's Word across the region.
Dave recently published a book, Father God: Daring to Draw Near.
The Strategy Seminar looks at Jesus as our model for life and ministry. What was His mission? What were His motives? What were His methods? How did Jesus build a movement that would change the world? Typically done in 8 hours, the Expanded Strategy's 12-hour format will provide additional coaching for implementation.
(Participants in Track 2 are encouraged to have previously attended a Strategy/Muvement Seminar or a Live2:6 Group.)
The Leadership Multiplication Seminar looks at the leadership multiplication phase of Jesus' ministry, from the time He selected the Twelve through His commissioning of them at the Ascension.  What did Jesus prioritize during this phase of His ministry?  How did Jesus prepare the Twelve for leadership?  How did Jesus intentionally multiply His life through others?  How can we sharpen our leadership vision and skills to expand the disciple-making movement of Jesus?
Available in Spanish & English
The 4 Chair Discipling Seminar looks at the model of Jesus for being a disciple who makes disciples, answering the questions:  What is a disciple?  What is the process for becoming a disciple who makes disciples?  Where am I at in that process, and what are my next steps?
The Foundations Seminar looks at the initial 18-21 months of Jesus' ministry and six foundational priorities He established for a healthy disciple-making ministry.  These six priorities are:  Holy Spirit Dependence, Prayerful Guidance, Obedient Living, Word-Centered, Exalting the Father, Relationships of Love and Integrity.
4 CHAIR TRAINER CERTIFICATION
The 4 Chair Trainer Certification Starter Kit includes:  Trainer's Bag, Trainer's Guide, Web Access to Trainer's Videos & Presentation Slides, 4 Chair Discipling book, and 10 - 4 Chair Discipling Seminar Guides.  (Note:  Only Certified Trainers have access to purchase 4 Chair Discipling Seminar Guides)
FOUNDATIONS TRAINER CERTIFICATION
The Foundations Trainer Certification Starter Kit includes:  Trainer's Bag, Trainer's Guide, Web Access to Trainer's Videos & Presentation Slides, Walking As Jesus Walked book, and 10 - Foundations Seminar Guides.  (Note:  Only Certified Trainers have access to purchase Foundations Seminar Guides)
REVERB TRAINER CERTIFICATION
REVERB is one part of Sonlife's training to help your ministry implement the disciple-making process.  As a REVERB Multiplier, we want you to see this training as a tool not only for YOUR ministry but also as a vehicle to MULTIPLY a movement of disciple-making to other ministries in your city, region, network or denomination.
Every part of REVERB has been intentionally designed to help disciples of all ages live out the Great Commandment and the Great Commission:  Love God•Love People•Make Disciples.  REVERB combines encouragement, equipping and hands-on experiences to help embed the character and priorities of Christ in each participant.
BECOMING A REVERB MULTIPLIER
A Ministry Leader may become Certified as a REVERB MULTIPLIER when:
They have been Certified as a 4 Chair Discipling Trainer

They have been through Sonlife's Strategy Seminar

They are modeling disciple-making personally and in their ministry
Sonlife's Disciple-Making Training Pathway is meant to help you BE a Disciple-Maker, BUILD a Disciple-Making Ministry, and BEGIN a Disciple-Making Movement.