St. Augustine, FL
January 14-15, 2021
Colleyville, TX
February 2021
Timonium, MD
April 29-30, 2021
Are you hungry to see a move of God across North America as disciples are made and multiplied, just as Jesus modeled? In the daily grind of living out Christ's purpose for His bride, do you ever wonder what effective disciple-making looks like in the church today? Are you in need of fresh vision, practical strategies, and timely encouragement for the leadership challenges you're facing as you endeavor to build a disciple-making ministry?
Join us in 2021 for one of our Regional M72 Disciple-Making events in cities across North America: St. Augustine, FL; Colleyville, TX; Timonium, MD. More cities to come: Toronto, ON; Chicago, IL; and Portland, OR.
Each of these regional events will be hosted by a ministry that is implementing Sonlife's Life of Christ disciple-making training and developing a disciple-making model church-wide, giving you as a ministry leader the opportunity to interact with leaders who have worked through many of the challenges you're facing.
Our Vision is that, together with you, we will transform the culture of ministry in North America, restoring it to the disciple-making heart of Jesus. We're believing God that by 2025, we'll see at least one disciple-multiplying ministry in all 50 US states, all 10 Canadian provinces, and 12 Caribbean nations. These ministries will be multiplying disciple-making leaders to grow a disciple-making movement beginning in their own Jerusalem and spreading across North America to the ends of the earth. Just Like Jesus promised.
This is M72. Join us on the journey.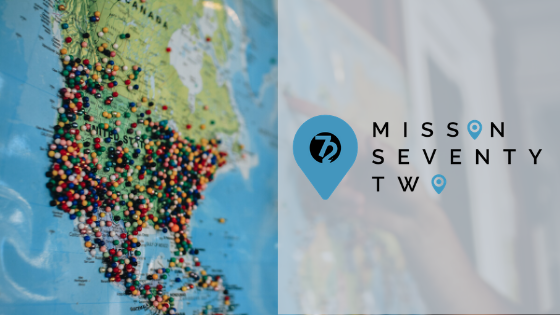 THURSDAY
8:00am / Registration opens
9:00am / Opening General Session
10:30am / Training Tracks
12:30pm / Lunch provided
1:30pm / Training Tracks resume
6:00pm / Event concludes for the day
Free evening to gather with your ministry team
FRIDAY
8:00am / Prayer Room open
9:00am / Training Tracks
12:30pm / Lunch provided
1:30pm / Training Tracks resume
4:00pm / Closing General Session
6:00pm / M•72 Event concludes
OPTIONAL POST-EVENT SEMINARS- SATURDAY
8:00am / Registration opens
8:30am / Seminars begin
12:30pm / Seminars conclude
4 CHAIR DISCIPLING
Designed to help believers understand the process Jesus used for developing disciple-makers.

FOUNDATIONS
Designed to help ministry leaders and their teams understand and implement six foundational priorities of Jesus' ministry.